It seems there really is nothing new under the sun. "Corporate ventures" is a concept as old as corporates themselves.Traditionally a corporate venture is defined as a large company taking a minority interest in a smaller company, generally in a related field. The idea is taking a stake in smaller, nimbler, more  innovative companies can create a competitive advantage for the larger entity at a minimal risk.
However, as we all know, nothing under the sun ever stays still either. That's why recent iterations of corporate ventures have a new look, this time widening to include companies establishing entirely new businesses or business models.
The HBR's 'Innovation Ambition Matrix' maps how the new look corporate ventures can accelerate searches for adjacent markets or transformational development.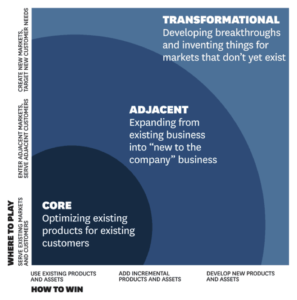 There's also nothing new about innovation management and disruption – they have both existed for as long as commerce itself. The printing press and the Model T are examples most of you will know. And so the process rolls on – these days even impacting the world's oldest profession!
Of course the major difference today is the pace of change. Global businesses, the removal of barriers to entry, and the impact of the 'Six Stages of Exponential Growth" or Six D's – Digitalisation, Deception, Disruption, Demonetisation, Dematerialisation, and Democratisation – are all playing leading roles.
I recently came upon this (soon to be published*) book – The Corporate Start Up. I think it gives a pretty good summary of the five critical elements required to deliver a successful corporate venture in today's world.
The Innovation Thesis
Innovation should not be conducted as a guerrilla movement, hidden and protected from the main business.  It must be part of and aligned with the overall strategic goals of the organisation. 
Here's why I think this such a great insight:
Having this as your default setting not only allows buy in from the wider business, but also helps the innovation team set criteria for assessing opportunities – how will this innovation help deliver our overall goals? Without this an innovation team risks devolving into a series of interesting meetings with entrepreneurs pursuing random and non-aligned ideas.
One key part of the Innovation thesis is the investment envelope and horizon. When things get bumpy the leadership team needs to ensure the innovation team has enough resources and runway to succeed. That can't be guaranteed in a "guerilla" environment".
Innovation conducted as a guerrilla movement will generate scepticism and sometimes hostility from the core business. That doesn't mean you place your innovators at the heart of your core business in fact the opposite it is true. Putting them in the core is a good way to distract them their mission. Likewise, the core will only value them as much as they contribute (which if they are trying new stuff, may not initially be massive). The risk of disillusion is significant. And of course, your innovation team needs to work at a different pace to the core – a speed boat vs. a supertanker.
Innovation Portfolio:
To achieve its innovation thesis and strategic goals, an established company should set itself up as a portfolio of products and services that cover the whole spectrum of innovation.
For a really good example of this, check out How Google Works. The authors Eric Schmidt & Jonathan Rosenberg are strong on resource allocation – 70% to the core, 20% to related, and 10% to moonshots.
Innovation Framework:
In order to execute on its thesis and manage its portfolio of products and services, the company needs a framework for managing the journey from searching to execution, such as Running Lean
Innovation Accounting:
With an innovation framework in place, the company now needs to make sure they are using the right investment practices and metrics to measure success.  Traditional accounting methods are great for managing core products. However, when managing innovation a different set of tools are needed. We propose that companies should use incremental investing based on the innovation stage of their products.
This is where it gets interesting… this is a real mind shift for traditional finance teams. Standard accounting practices won't work and will kill ventures before they get started. If you are going to follow the idea of the Innovation Thesis the financial measures should be those of seed or VC funding.  Define milestones and then decide whether the venture gets more funding, needs to pivot, or is shut.
Innovation Practice:
In addition to managing investments in innovation the right way, the way product teams develop products has to be aligned to the innovation framework. 
As the authors point out, most businesses focus on product development and product validation. The key point is to be successful this is only one part of the puzzle.
The noise around corporate ventures and corporate innovation will not go away any time soon – it's a byproduct of the uncertainty generated by the pace of change. Chances are, your own businesses will become involved in this. If that's the case, the above settings are a good starting point and will ensure you have the right elements are in place to succeed.
KS
* Another piece of change… this book is shared on www.publishizer.com a virtual market place for authors to meet publishers. It's open for a few more days, but don't worry if you miss it. It covers similar ground to Business Model Generation and Value Proposition Design: How to Create Products and Services Customers Want, two other excellent books on the subject.